Recently there has been a lot of focus on wearing of masks and many people do not know the difference between a mask and a respirator.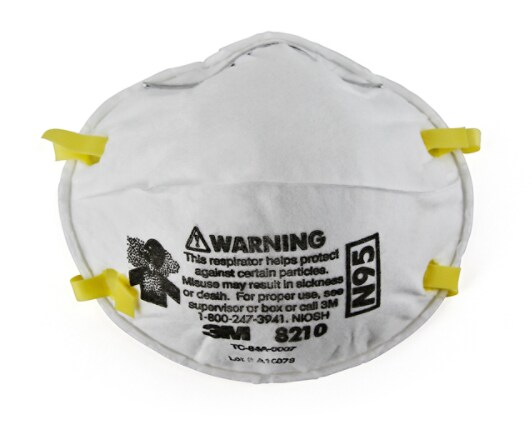 Now that the supply of N95 Respirators is starting to increase, some health experts, but not all, are now recommending upgrading from a cloth type mask to an N95 Respirator. A major concern of health experts, and a reason that many experts still do not recommend the general public to wear N95 respirators, is the fear that many people will not wear them correctly with a tight fit and proper, thus reducing the effectiveness. Another concern is that many N95 respirators are not very confrontable to wear and people may tend to take them off. To be worn correctly, people should have training and be fit tested, the same as for any respirator usage.
There are a few things you should know about N95 masks/respirators and should consider in your Job Safety Analysis (JSA) or Activity Hazard Analysis (AHA).
There are two types of N95 respirators, surgical and industrial.
A surgical N95 respirator must be approved by the FDA and must be tested for fluid resistance and biocompatibility to ensure that they do not cause any skin irritation or allergies.
An industrial N95 respirator are certified by NIOSH and are not necessarily approved by the FDA. Industrial N95 respirators are for use in industrial settings, often in very dusty environments, such as mining, and construction.
Both types of N95 respirators have a tight seal around the wearer's face, unlike cloth or surgical masks. It is this tight seal that gives the wearer of a N95 respirator the increased protection to airborne particles because all of the users inhaled and exhaled air is filtered through the respirator.
An alternative to wearing a N95 continues to be the use of two cloth masks, also known as double masking and, making sure that when cloth masks are worn, they have a tight seal to reduce air leaking around the mask which will maximize their effectiveness. The U.S. Department of Health and Human Services, Centers for Disease Control and Prevention (CDC) has published guidance on how to get the most benefit from cloth and surgical masks by making sure the masks have a proper fit .
People purchasing N95 respirators and other types of masks need to be aware that some products sold on-line are not of high quality and have not undergone the rigorous testing procedures to get a true NIOSH certification. The New York Times has published an article to assist in your purchasing decisions.
In summary, the following are some items regarding N95 respirators for consideration in your Job Safety Analysis or Job Hazard Analysis:
There is an increasing supply of N95 respirators now available
Not all medical experts agree that the general public should wear N95 masks / respirators
A risk assessment should be conducted to determine if wearing a 95 respirator is appropriate for each individual in any given work environment
There are two types of N95 respirators – Surgical and Industrial
Surgical - intended for use in healthcare, designed to reduce biological contaminants and tested for fluid resistance. Cleared by FDA and not certified by NIOSH
Surgical N95's are approved by the FDA
Industrial N95's are certified by NIOSH and are intended for industrial settings, metalworking, construction and mining. Designed to reduce wearer's exposure to airborne particles and aerosols that do not contain oil.
Both types require fit test
Stay up to date on any new guidance from the Centers for Disease Control and Prevention regarding masks and respirators
JSABuilder is a state-of-the-art online job safety analysis app to assist in preparing your Job Hazard Analysis or Job Safety Analysis. Set up a free trial account today and follow us on Twitter @JSABuilder , where we Tweet about Health and Safety, provide Safety tips, and updates on current Health and Safety topics.
Images, links, brands discussed or displayed in this article are not endorsements or recommendations. They are for illustration of various products and types of products. JSABuilder does not recommend or express any opinion as to the applicability to any given use case or job hazards.